Walk-in Tub and Safety Shower Installation in Greater Philadelphia, Pittsburgh, West Chester PA & Baltimore
Improve your bathroom's accessibility with replacement tubs and showers in PA, MD, DE, and NJ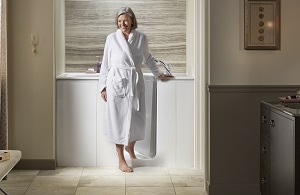 Improve accessibility. A new walk-in tub or shower can allow you to remain in your home and preserve your independence, comfort, and safety.
Showering and bathing can be a difficult task for senior citizens and people with physical disabilities. If you're looking to make your bathroom more accessible and easier to use, Home Smart is here to help!
We provide a complete line of walk-in tubs, safety showers, and bathroom accessories to help make your bathroom as safe and enjoyable as possible. Our experts will work with you to determine the best option for your needs and provide you with a beautiful finished product.
We pride ourselves on our track record of happy customers. For homeowners seeking professional work at a great value, Home Smart is the no-brainer decision. If you're interested in transforming your bathroom with a walk-in tub or shower, call us today or click below to get started with a free estimate!
Customer Review
By Harvey B.
Rockville, MD

"I was satisfied in all areas. That was the first time i received anything..."

By Diane & Joseph F.
Coal Center, PA

"I am very satisfied with the workmanship and the value of my new walk in..."

By Beatrice C.
Beltsville, MD

"Home Smart Industries was here when they were suppose to be and they did..."
Enjoy the benefits of easy access to tubs and showers
There are several great reasons for homeowners to choose walk-in tubs and walk-in showers. The easy access allows you to maintain your independence and comfortably bathe without assistance. For many senior citizens, these renovations allow them to stay in their own homes longer.
Walk-in tubs and showers include no-leak doors, anti slip floors, seats, handrails, and other features to ensure that you are as comfortable as possible and your bathroom continues to function normally. Our line of accessories will allow to customize and match your current bathroom's appearance as well.
Maintain your bathroom's usability with a walk-in tub today
If a walk-in tub or shower sounds like the right solution for your bathroom needs, call Home Smart at 1-855-696-4000 today. We offer free estimates on all our work, and we can find the perfect safety tub or shower for your needs. We proudly serve in Philadelphia, Pittsburgh, Baltimore, West Chester, Silver Spring, Bethesda, Potomac, Cherry Hill, Lansdale, Morrisville, and throughout the surrounding areas.
Before and After
Before

After

This Walk-In bathtub was installed in Boyds, Maryland.

Before

After

Installers from Home Smart Industries removed a cast iron bathtub and installed a Walk-In tub with nano bubbles in Boyds, Maryland.

Before

After

This Walk-In tub installed in Boyds, Maryland has nano bubbles, a heated seat and ten massaging water jets for a spa-like bathing experience.